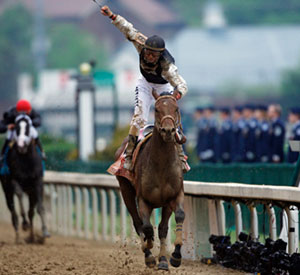 Saturday was a great full day of sports, it started off with the 135th Kentucky Derby, which was won by a 50 to 1 longshot. Mine That Bird, ridden by jockey Calvin Borel, shot past the field down the stretch and won by 6 3/4 lengths in a improbable upset.
Next, was the epic 7 games series between the Boston Celtic and the Chicago Bulls. The favored Celtics got all it could take and was pushed into the final game by the Bulls. It was a hotly contested series that included four overtime games and 7 overtimes in all, both a NBA playoff record, and hard, physical play, which would be expected in a series like this. But in the end, the Celtics pulled it out in game 7, 109-99 (which I'm not happy about, ha!)
And for the main event, if you will, the much anticipated bout for the title of "pound-for-pound" best fighter in the world, Manny Pacquiao v. Ricky Hatton. A great fight, especially if you're Filipino (as I am), that saw Manny dominate after knocking down Hatton twice in the first round. And then, he finished it off with a knockout left hook in the second round. Manny, still the "pound-for-pound" best fighter in the world, is expected to face the returning Floyd Mayweather.